The aim of SPORTS MASSAGE:
To relax, stretch, and improve circulation to tired muscles.
5 main reasons for SPORTS MASSAGE:
1. Prepare a sports person for training/competition.
2. Help to avoid injury.
3. Speed up recovery after sport/competition.
4. Aid and speed up recovery after prolonged training.
5. In the event of injury, to aid rehabilitation.
SPORTS MASSAGE can be given:
1. Pre-event to improve circulation to muscles, to warm up and stimulate the body in preparation.
2. Post-event to warm down the muscles, improve circulation to the muscles, to aid recovery and stretch the muscles.
3. Therapeutic, used for training or competition. Frictions used in this treatment are given to mobilize deep muscles and may be painful. You can expect to feel sore the next day and only a gentle work out is recommended. Deep frictions will not be given immediately before an event. Frictions usually form part of a series of treatments, the number depending on the condition of the muscles.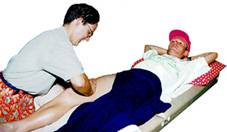 SPORTS MASSAGE Basic techniques:
1. Effleurage is superficial stroking to warm tissues ready for treatment.
2. Deep effleurage increases venous return and increases mobility of soft tissues.
3. Petrissage is a kneading technique which increases circulation and removal of waste products.
4. Frictions are pressure manipulations using thumb or fingers to loosen scar tissue and reduce local muscle spasm.
SPORTS MASSAGE is a therapy which belongs alongside a training program. It is unique in that it is diagnostic and treatment at the same time. The therapist can feel problems and deal with them in the same session.
SPORTS MASSAGE will help your training run more smoothly, help you recover faster and help prevent injury.